Business continuity management (BCM) is a plan to be executed to continue your operations if your company is affected by an external or internal events : fire, storm, flood, utility outage, civil disorder, ...
Developing a Business Continuity Plan (BCP) will give the insurance that you have a comprehensive and systematic process of protection, response and recovery.
This can covers:
business recovery for business processes, services and activities
disaster recovery for ICT assets
emergency response for people, premises and utilities
crisis management for the protection of intangible assets, such as brand, reputation, image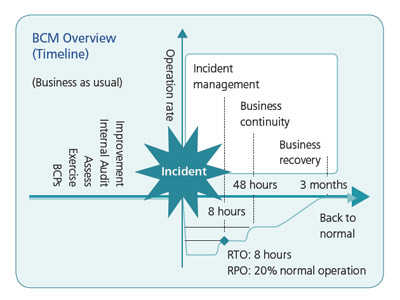 The conjunction of an efficient guidance and high level of expertise in technologies will play a large role in assuring that your business is resilient in a changeable business environment.
The challenges is to make sure that this plan is applicable and tested. Applying a BCP is one thing, once done the objective is to being able to move back to the normal.